Will Your Biogas Digester Project Be Profitable?
Biodigester projects require millions of dollars in upfront investment, which is why project developers, utilities, and engineering firms regularly contract us to perform feasibility studies before the project moves forward. In fact, Regenis' Research Director, Dr. Craig Frear, is the co-author of  Completing A Successful Feasibility Study For An Anaerobic Digester Project.
Digesters we've built have a combined 120 years of service behind them, which is why you can have confidence your project will get off to a solid start.
Manure Capture
& Biogas Estimates
All farms are different. The quantities of manure and biogas produced on a dairy are complicated and need to factor in multiple data points beyond just the number of cows.

We've worked with various dairy farms in different climates and different parts of the country. We have our proprietary formulas for output that project developers can take to the bank.
Dairy Digester Developers Trust Us
Not all dairy digester projects pencil out, and we've said so. We're also not obligated to any particular manure digester technology because we want to recommend what makes the most sense for a given project.
From simple flow diagrams to advanced dairy manure treatment, developers we've worked with appreciate both the breadth of our experience and our willingness to seamlessly integrate with the rest of their teams in a utility role.
---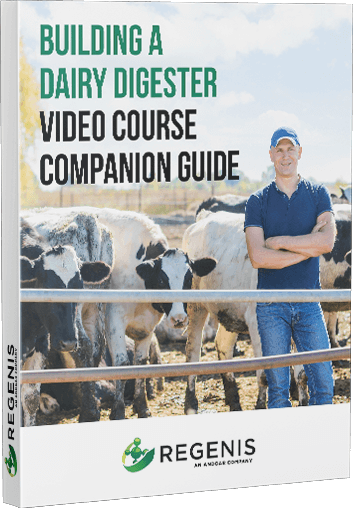 Your Dairy Digester Project Forward
Access Our Free Video Course What You Need To Know To Build A Dairy Digester
Taught by Regenis' Research Director and American Biogas Council Board Member, Dr. Craig Frear.
---
We will email you the companion guide for the course along with instructions how to fill it out.
---
Watch the video and fill out the companion guide.
---
Send the guide to Eric Powell, Regenis' Business Development Director, to schedule an initial call to discuss your project.